NBA Trade Rumors: Memphis Grizzlies Have Made Marc Gasol And Mike Conley Available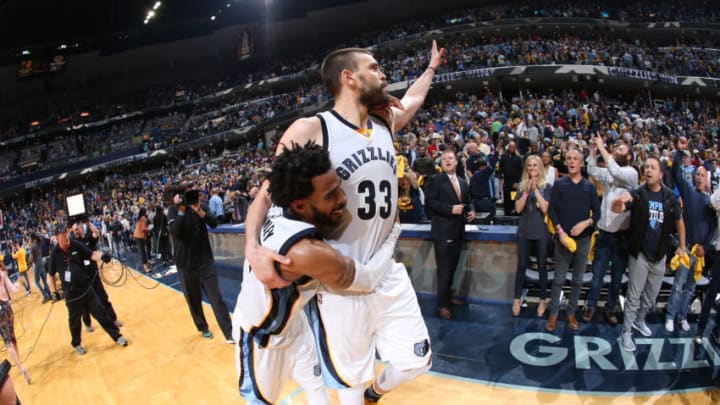 Mike Conley Marc Gaol Memphis Grizzlies (Photo by Joe Murphy/NBAE via Getty Images) /
The NBA Trade Rumors are swirling and the deadline is coming quickly. The Memphis Grizzlies have made Marc Gasol and Mike Conley available in trade talks.
The Memphis Grizzlies have made their long-term franchise stars, Mike Conley and Marc Gasol available in trade talks. The NBA trade rumors will continue to come and either of these or even both could be on their way out of Memphis in the coming weeks.
These two have meant so much to this city and the franchise. They have made the playoffs many times including a trip to the Western Conference Finals.
They were never able to take the next step and reach the NBA Finals but that doesn't mean they were a failure. The city has rallied around them and it will be a very sad day whenever these two are officially gone.
They have both played at a high level in their careers. Gasol is a three-time NBA all-star as well as being named Defensive Player of the Year award in 2013.
He is in his 11th season with the time after being acquired in a deal that sent his older Pau Gasol to the Los Angeles Lakers.
He has played in 762 regular season games with the team averaging 15.2 points, 7.7 rebounds, and 1.5 blocks per game. His time with the franchise was memorable and he is the more likely of the team to be traded, though he does have a tricky situation with a player option this summer.
Conley has made a huge impact on and off the court for this team. He has never gotten the respect he deserves from the national media but everyone in Memphis knows how good he is.
His contract makes him difficult to trade but his play has been great and a team with cap space could be willing to make this move. He has 2 years,$67 million left after this season.
He has never made the all-star team and it seems like he never will but he most certainly is an all-star caliber player.
Conley is in his 12th season with the team but due to injuries has played nearly identical games as Gasol, he has currently played in 764 regular season games with the team. In those games, he is averaging 14.6 points and 5.7 assists.
Both of these two will be dearly missed but it is time for the Grizzlies to move on. They have a bright future led by Jaren Jackson Jr. and it's time to start making moves to help build a championship contender around him.