Rumor: Iguodala not reporting to training camp
The Memphis Grizzlies have reached an arrangement with Andre Iguodala, which will not require him to report to training camp. What does this mean for the Grizzlies, and for his future with the team?
According to the Daily Memphian, the Memphis Grizzlies have reached an arrangement with Andre Iguodala, which will not require the star forward to attend training camp. Iguodala will not be reporting to the team's media day, and he will not be participating in any team activities during their training camp, which will run from Oct. 1-3.
With this news, the saga of Iguodala and the Grizzlies continues to grow. Back in July, when Memphis received Iguodala for next to nothing from the Golden State Warriors, it was widely assumed that the Grizzlies would buy him out of his contract. Iguodala is a star going into the twilight of his career, and he may even be on his last deal, which would make 2019-2020 his final season. Typically, taking a financial hit to allow a star to play out his career on his own terms would be the route any NBA team would take.
Then, Memphis made headlines when they announced that they would not be buying Iguodala out of his contract, and at that time, they were expecting him to report to training camp:
On the surface, this makes sense. $17.2 million is not small amount, and for a small market team that's in the middle of a rebuild, that financial hit could be felt for the next few years.
Still, the move definitely raised more than a few eyebrows around the league. The NBA has always prided itself on proper treatment of their stars, and the Grizzlies blocking Iguodala certainly could be seen as a disrespectful move to a three-time NBA champion and Finals MVP.
This move was most likely a compromise between Iguodala and the Grizzlies, with the hopes that it won't upset him too much, and it may save a little face for Memphis in the future. Even with this though, Memphis knows that they have Iguodala on borrowed time right now, and will probably look to trade him sooner rather than later.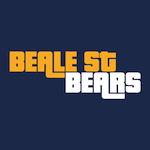 Want your voice heard? Join the Beale Street Bears team!
Write for us!