Memphis Grizzlies: Official 2019 preseason preview
For most fans, the preseason one thing: The NBA season is just around the corner. The Memphis Grizzlies will begin their preseason on Oct. 6th, and it should provide some nice chances to test the depth of this rotation.
The Memphis Grizzlies preseason will begin on Sunday, Oct. 6th as they face Haifa in Memphis. For most fans, the preseason is just the final step before the real thing begins in late October. However, the preseason can be very useful to teams with either a new front office or new rotation, as it will allow them to run some tests and find out what works in a low-stakes environment. It just so happens that Memphis is has both.
Compared to the rest of the teams in the Southwest Division, Memphis has got a fairly relaxed schedule. Of the three games that division plays against international teams, Memphis plays two, and both will be at home.
Following the second of those international games, the Grizzlies find themselves with almost a week off before they face the Charlotte Hornets, who weren't much of a threat last year even with Kemba Walker. After that, they'll face a rebuilding Oklahoma City Thunder, and then will play their final game against the San Antonio Spurs. The Spurs game also happens to be the only time they will face a division rival in the preseason.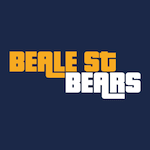 To put that schedule in comparison with the rest of the division, out of their three non-international games, the Grizzlies will face just one presumptive playoff team. Stack that up against the Mavericks, who will face two, the Spurs who face one, the Pelicans who face two, and the Rockets who face four, and it's easy to see why Memphis could be feeling confident in their ability to perform well in the preseason.
This schedule will also give the Grizzlies new front office a chance to try out different pieces, and see what works and what doesn't work before heading into the season. They'll be able to experiment with different lineups, matchups, and putting players in different spots, without worrying about their record.
The preseason normally doesn't give many fans much reason for excitement, but due to it's relative easiness for Memphis, and the fact that it will give the Grizzlies a chance to test all of their young players, Grizzlies fans might just want to tune in, and watch their team play before the season starts.