Grizzlies predicted to make a major rotational shakeup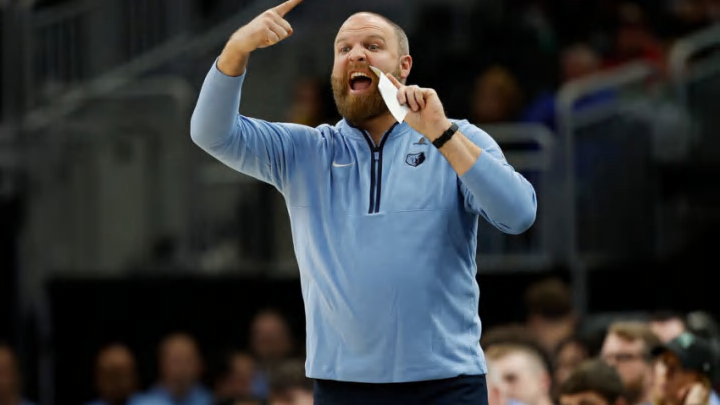 MILWAUKEE, WISCONSIN - OCTOBER 20: Taylor Jenkins head coach of the Memphis Grizzlies during the preseason game against the Milwaukee Bucks at Fiserv Forum on October 20, 2023 in Milwaukee, Wisconsin. NOTE TO USER: User expressly acknowledges and agrees that, by downloading and or using this photograph, User is consenting to the terms and conditions of the Getty Images License Agreement. (Photo by John Fisher/Getty Images) /
After the devastating news broke Sunday afternoon that Steven Adams would be out for the entirety of 2023-24 as he opts to undergo surgery to repair his right posterior cruciate ligament, many were anticipating that the Memphis Grizzlies would noticeably regress in a multitude of areas on the court, particularly in the defensive and rebounding departments.
Wednesday night's season opener only affirmed such fears, as they were bested on the boards (52-37) and allowed the visiting Pelicans to drop 111 points on 47.1 percent shooting from the field and 43.8 percent from distance compared to Memphis' 104 points on 41.8 percent shooting and 27.9 percent shooting from deep.
Though it may have only been their first game of the year, one could very easily predict that if this roster remains as is, these aforementioned problems will likely continue to be present as the year progresses.
Fortunately, the folks at Bleacher Report believe that GM Zach Kleiman and company will look to make some rotational adjustments at some point in the not-too-distant future to address said issues, as writer Andy Bailey predicts that the Grizzlies will trade for a new big man this year.
Prediction has Memphis Grizzlies striking a trade for a new center this season
""The Grizzlies could slide JJJ over to the 5 and play a sleeker, faster brand of basketball, but those lineups might get crushed on the glass. The depth chart at center is grim after that.They almost have to address this need through a trade, and there are a few good candidates in the West they could (and probably will) go after," Bailey wrote."Robert Williams III isn't too far off the timeline of the rebuilding Portland Trail Blazers—the 26-year-old is only a year older than Deandre Ayton—but maybe they'd be enticed to move him for a draft asset. Utah Jazz big man Kelly Olynyk may add wins to a team that could actually intend on losing and improving its draft lottery odds. Whoever it is, Memphis now needs a center. And it'll add one before the trade deadline.""
https://twitter.com/trailblazers/status/1717381255929766375
As Bailey noted, there appear to be quite a few quality options across the association that the Grizzlies could look to target in a trade, but perhaps the most popular name currently being linked to the ball club is Portland Trail Blazers big, Robert Williams III.
Acquired in the surprise blockbuster that sent Jrue Holiday to the Boston Celtics, the man known as Timelord is currently in the prime of his career and has ample experience contributing to title-hopeful teams yet is trapped on a roster that not only already has a presumed go-to pivot in Deandre Ayton but is also likely looking to tank to kick off their post-Damian Lillard era.
With this in mind, many believe that pursuing a trade for Williams could be both realistic and highly impactful for Memphis, as he would seamlessly make up for their rebounding and defensive shortcomings with Adams now sidelined for the year.
One of the premier centers currently in the game, the 26-year-old has posted impressive per-game averages of 8.8 points, 8.4 rebounds, 1.8 assists, and 1.8 blocks over the last three years while shooting at an insanely efficient 73.2 percent clip from the field for his career.
On top of this, he boasts a stellar 103 defensive rating and a block percentage of 7.4 for his career and has seen an offensive rebound percentage of 14.0 coming into this season, which is a mark just .8 percentage points fewer than Adams.
That said, though Williams would be a tremendous addition to this Grizzlies squad (assuming he can stay healthy), be it the second player Bailey mentioned in the 6-foot-11 Kelly Olynyk (12.5 points, 6.2 rebounds, and 3.7 assists on 39.4 percent shooting from distance last year) or someone else, they must look to upgrade their center position.
If they didn't learn this last season while their trusty veteran big was out, Wednesday's outing should be seen as a wake-up call.
Fortunately, B/R predicts Memphis will end up stepping into action on this matter. Now let's just wait and see if their exciting prophecy turns into a reality.