Memphis Grizzlies Must Demonstrate Sense of Urgency Behind Youth Development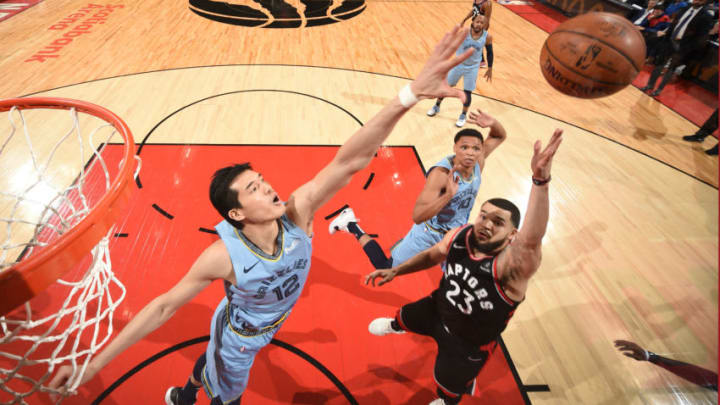 TORONTO, CANADA - JANUARY 19: Fred VanVleet #23 of the Toronto Raptors drives to the basket against Yuta Watanabe #12 of the Memphis Grizzlies on January 19, 2019 at the Scotiabank Arena in Toronto, Ontario, Canada. NOTE TO USER: User expressly acknowledges and agrees that, by downloading and or using this Photograph, user is consenting to the terms and conditions of the Getty Images License Agreement. Mandatory Copyright Notice: Copyright 2019 NBAE (Photo by Ron Turenne/NBAE via Getty Images) /
With just 19 games remaining in the 2018-19 regular season, the Memphis Grizzlies must prioritize youth development as their top focus.
As the Memphis Grizzlies prepare to face the Dallas Mavericks on Saturday, only 19 games remain in their 2018-19 NBA season. Things are winding down quickly for a club that is all but eliminated from playoff contention.
Though the odds of a postseason appearance by the Grizzlies this year has been unlikely for quite some time, there remains plenty to play for.
The theme is Project Rebuild, if you will. Memphis has already dealt one (Marc Gasol) of two franchise cornerstones in 2019, and the second (Mike Conley) will likely pack his bags at some point during the summer offseason timeframe. The reset button on the Grizzlies organization has officially been pressed.
While the Memphis Grizzlies' General Manager — Chris Wallace — has publicly stated that the Grizz will focus heavily on winning as many games as possible within the final stretch of the season, this is not the primary key the team needs to utilize.
This is not saying the Grizzlies should steer away from their attempt to convey this year's first-round NBA Draft pick to the Boston Celtics. Actually, this is all about focusing on the guys that are currently residing on the roster today.
When it comes to winning, losing, and conveying the pick, the Front Office needs to allow fate to take place. Allow the final record to happen naturally by investing in the development of the roster's youth.
Even if a few of the youngsters will continue to get G-League exposure as the season winds down, there is no better experience than to play in NBA regulation games, especially versus starting-caliber defenders. These things expedite the developmental process and it shortens the overall rebuilding phase.
More from Beale Street Bears
Some of the Memphis Grizzlies' best wins this season have happened on nights that the team's youth has been given the green light with extended minutes. Though Jaren Jackson Jr. is the runaway candidate for praise here, other guys — such as Jevon Carter, Yuta Watanabe, Ivan Rabb, and Bruno Caboclo — deserve credit for turning opponents' heads on multiple occasions.
Instruction needs to be given to J.B. Bickerstaff to play the young guys in expanded roles through these final 19 contests. Injuries have considerably thinned Memphis' rotation, but this only makes Bickerstaff's job easier.
For instance, Mike Conley has logged a minimum of 30 minutes in four of the Memphis Grizzlies' last five games. Two of these four meetings were in excess of 35 minutes. Meanwhile, Jevon Carter has received three "DNP – CD" explanations in the box score after games of 14 minutes and three minutes, respectively.
How can a guy get into a groove with little to no playing time? Plus, where is the sense of urgency in developing Conley's long-term replacement? Sure, Mike gives the Grizzlies a shot at winning each and every night. Yet, he is accumulating excessive wear and it is not benefitting Memphis' future in any way, shape, or form.
While Ivan Rabb and Bruno Caboclo have lucked into golden opportunities following the NBA Trade Deadline and various injury updates, another problem that exists is the lack of appearances made by Yuta Watanabe. Though currently playing on a two-way contract, it is realistic to pencil him in as a key contributor as a Grizzlies swingman in the 2019-20 season.
Following the NBA All-Star break, Chandler Parsons made his return to the team. Yes, the Memphis Grizzlies absolutely should hand minutes to Parsons in order to test his capabilities, receive some bang for their buck, and generate future trade interest in his services. However, they should not completely forget about Yuta's existence.
In playing on a two-way deal, Watanabe can play in a maximum of 45 regular season contests this season. Entering Saturday's matchup against the Mavericks, Yuta has only logged minutes in 10 regular games for the Grizzlies. That leaves 35 games of eligibility, yet 19 games remain in reality.
Do the math. Memphis has not done themselves any favors by not utilizing Yuta Watanabe. They should be trying to use him to the fullest, especially since he has a versatile offensive skill set. For reference, Memphis ranks dead last in the entire NBA in points produced per game.
As soon as the Memphis Grizzlies take one step forward in the youth development department, they take two steps back. Last season ended with the Grizz taking the reigns off Dillon Brooks, and the results were fabulous. In the final 1.5 months of Brooks' 2017-18 rookie campaign, he logged 29.8 minutes per game en route to a production line of 16.4 points on 44.1% shooting, 3.3 rebounds, 2.3 assists, and 1.0 steals.
The Front Office is the same. The head coach is the same, albeit a full-time position for J.B. Bickerstaff now in 2018-19. Still, the same developmental woes exist. This should absolutely be concerning as the Grizzlies franchise a new phase/era.
The threat is that the Memphis Grizzlies will waste away a seemingly tanking season…and for what? Imagine a completed regular season leading to no first-round Draft pick. Plus, minimal growth demonstrated by the team's future counterparts. And now, heavy minutes by veterans that could very well be donning other teams' uniforms come October.
A lost season is correct. It is time for the Grizzlies organization — as a whole — to figure things out to find the most value within these final 19 regular season contests. It is past time to invest in this team's future, so what are the decision makers waiting on?